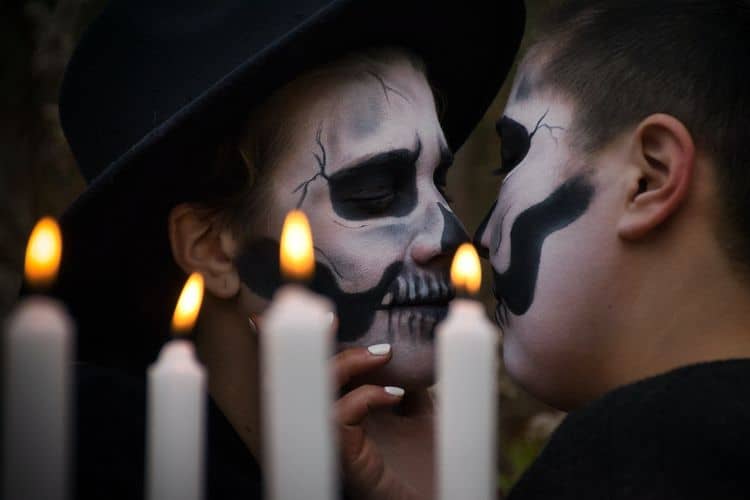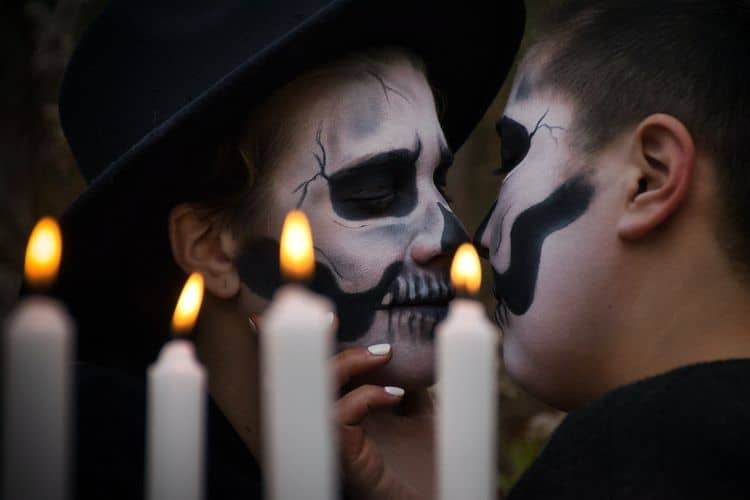 If you and your partner enjoy Halloween, then proposing on October 31st could be a perfect idea. When you propose on Halloween, you will have the element of surprise since it is not a holiday usually associated with romance. Proposals around Halloween can be low-key, unique & if you're going to pop the question, why not do it in a Halloween-themed way?
We've got you covered with cheesy and pumpkin-spiced latte-filled ideas that your future spouse will love. Below we've put together some suggestions on how you can ask your loved one to marry you on this spookiest night of the year.
Halloween Proposal
Why not start the holiday season on a cheerful note by proposing to your special someone on All Hallows Eve for the sweetest Halloween of your lives? Soon after their engagement, many couples want to meet with family & friends to celebrate the start of this exciting new chapter, and holiday gatherings & dinners are the perfect occasions for this. Halloween proposals can lead to wonderful engagement stories if they are creative and memorable.
Below are a few suggestions.
Pop the Ring with a Trick or Treat
Ring Pops is a fun way to pop the question for playful couples. You can propose to your better half by trick-or-treating, a classic Halloween activity. Make it a surprise prize, make it part of their candy bag or surprise them with it when they choose a treat. A diamond ring will be more exciting than candy!
You can also propose to each other using candy if you both have a sweet tooth. You can order M&M's that say "Will you marry me?" or you can spell it out with candy corn. Many people think trick or treating is only for children, but what's the fun in that? When you're all lovey-dovey with your soon-to-be fiancé or fiancé, go to the homes of people you know instead of going to random porches.
You might try executing your plan at a friend's house. During trick or treating, you might give your friend the engagement ring and instruct them to give it to your partner. Then call back your soon-to-be spouse to the door and hand over the ring. As soon as she turns to you, go down on one knee. Sweet right?
A Tale in Time–the Coordinated Costume Proposal
Are there any movies, scenes, or couples that you and your partner enjoy? Then we suggest getting inspired by your Halloween costumes for the occasion and popping the question in costume. Quotes work best here, but it can also be fun to assume a character's accent if they have one.
With this idea, you can get as many people as you like involved & get them all dressed up in coordinated looks taken from your favorite movie. The goal of your Halloween costume should be to surprise your significant other. Among the many examples are:
Lady and the Tramp

Beauty and the Beast

A prince, and a princess or maiden

A knight-in-shining-armor
Love is in the Air: Visit the Pumpkin Patch or Go Apple Picking 
With apples & pumpkins coming into season, so don't be afraid to be sweet now. If you are planning on going to an orchard this Halloween, you have two options.
You can take your unique someone's apple picking at an orchard, where you will eventually pop the question. Make things interesting by having your partner reach up for an apple and then surprise them by getting down on one knee when they turn around.
Or talk to the farmer and ask them to leave out a pumpkin with a handwritten note for you ahead of time. It might be fun to search through a patch of pumpkins to find love notes that lead to the big one that says "Will you marry me?"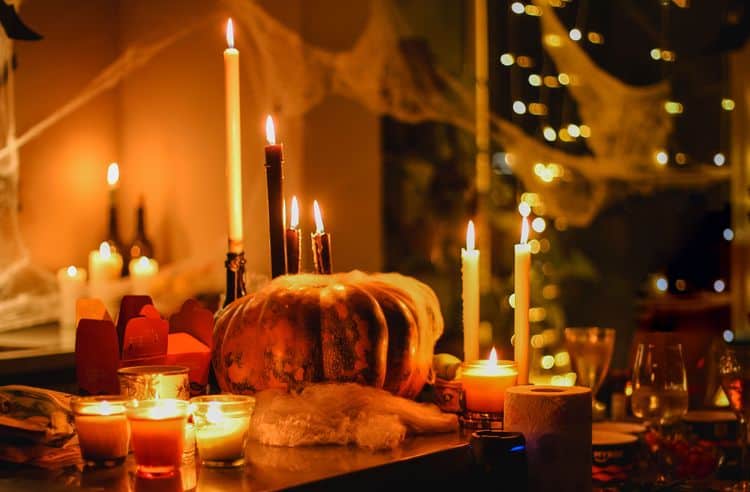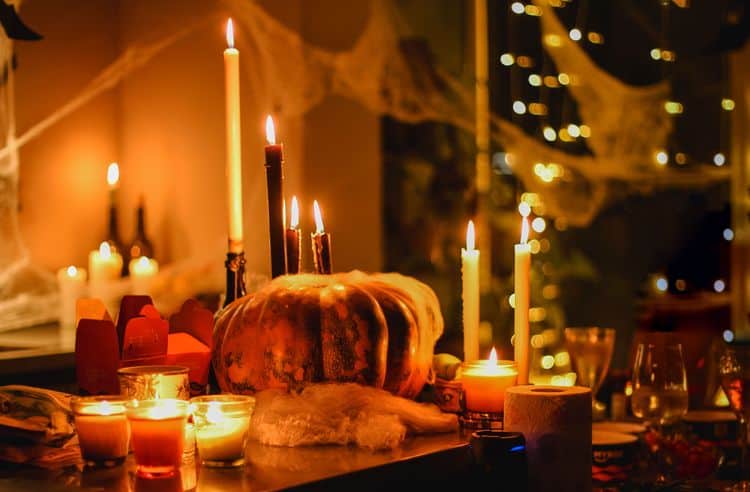 Let's Carve Pumpkins With Love
If you didn't pop the question while picking pumpkins, it doesn't mean that the pumpkin spice is lost. Although it might seem messy, a hidden surprise can add even more excitement to pumpkin carving. You have several choices here including (but not limited to):
Placing the ring inside the pumpkin so they'll discover it when cleaning the insides

To make it more exciting, gathering family and friends to carve together

Making different pumpkins and keeping your carvings hidden until the very end, when you reveal your carving: "Marry Me?"
A Big Scare and a Big Surprise at the End of the Haunted House
You will get scared in a haunted house with jump scares, ghoulish characters & other surprises along the way. You can ask a haunted house performer to present the ring to your significant other at the end of the tour, giving your relationship the happy ending it has always deserved. 
Here is an option. Instead of finding a scare when peering into the windows of the abandoned house, perhaps you could surprise and give your partner a ring? 
A More Intimate & Romantic Halloween Proposal
Halloween is the perfect season to go all out on a proposal, thanks to its extravagant nature. There is no end to the creative things you can do for your partner if you dream of creating something truly epic. Imagine making your loved one's favorite song the soundtrack to your custom-made haunted house or planning a treasure hunt through a corn maze to commemorate their special day.
If you want your grand Halloween proposal to be a success, you might hire a proposal planner. Professionals like these can ensure the surprise is a treat for your partner & it doesn't turn into a fiasco.
Could October 31st be the perfect day to propose? Because Halloween is full of fun and whimsy, it lends itself greatly to the creation of a range of excellent proposals, and there are many creative ways that you can ask your partner to marry you on this month's spookiest night. Partying on Halloween weekend may be popular, but parties might not be the best place to pop the question.
So, think through your proposal well. Consider having a horror film festival at home. Just make sure not to hide the ring in the candy or popcorn. If you plan on proposing unconventionally, avoid clichés. Halloween engagements are not for everyone. The idea has more romance than you may realize.
Halloween Engagement Photos
You can find scary, cute or thought-provoking Halloween photography. Be adventurous for decorating your Halloween photos. Don't be afraid to experiment with unique elements.
Get some inspiration from Taylor Lautner's proposal to his now fiancee Taylor Dome. He proposed to her in front of a fireplace while holding a small box surrounded by rose petals and candles. While he proposed, Dome covered her mouth with her hands. Lautner proposed to Dome with an oval-cut diamond from Ring Concierge.
Halloween is a beautiful time for unique, memorable marriage proposals. Even if you're not looking to propose right away, there are fun Halloween activities for everyone at Nights of the Jack where you can have a fun date that could lead to popping the question!