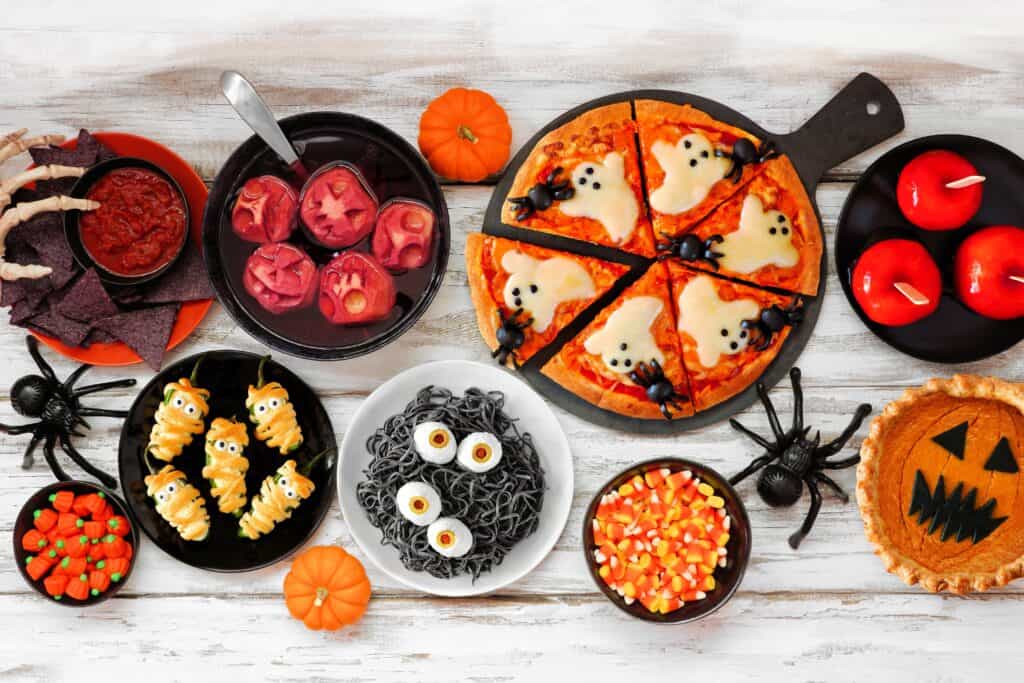 The fall and spooky season is a great way to gather friends and family to eat festive snacks. Halloween is the perfect time to get creative in the kitchen and create spooktacular treats that will leave your guests screaming for more. If you are throwing a party and need some appetizers or snack ideas to feed the crowd, we have compiled a list of our favorite seasonally spooky dishes that will be crowd-pleasers. Read this blog to see what spooky snacks you should make for your next Halloween or spooky season party.
Spider Web Chocolate Pretzels
Spider-web chocolate pretzels are a fun and creative Halloween treat. They are made by coating pretzels with melted chocolate or candy melts and then decorating them to resemble spider webs. These are great grab-and-go snacks that are a show-stopper.
Caramel Apple Monsters
Dip apples in caramel and then roll them in crushed Oreo cookies to create a deliciously creepy coating. Use candy eyes and black licorice to make these caramel apples look like goofy monsters. They're the perfect blend of sweet and spooky.
Frankenstein Rice Krispies Treats
Make your Rice Krispies Treats monstrous by shaping them into Frankenstein's heads. Use green food coloring for the base, decorate with black icing for the hair, and add candy eyes and a stitched mouth. Kids and adults alike will enjoy these delicious and adorable treats.
Skeleton Veggie Tray
For a healthier option, this skeleton veggie tray is an excellent option for those who may have overeaten candy. Since Halloween tends to turn into a celebration of candy, it's nice to have healthy things like this skeleton veggie tray to even out the sugar intake.
Witches Broom Cheese Snacks
These cheese sticks are a spooky option for a salty snack. You must stick pretzels with many cheese sticks, whichever kind of cheese you choose. You rip many tears into the cheese stick to make it have a broom-like finish and stick the pretzel at the top. Everyone is going to wonder how you made these.
Jack-O-Lantern Clemintines
Jack-O-Lantern Clementines are a healthy and creative Halloween snack perfect for kids and adults alike. They're essentially clementine oranges transformed into adorable little jack-o'-lanterns.
Blood-Red Velvet Cake
Bake a classic red velvet cake and decorate it with a blood-red cream cheese frosting. You can also add edible vampire fangs or other spooky cake toppers.
Check Out Halloween Inspiration From Nights Of The Jack
Nights of the Jack is Los Angeles's biggest Halloween season celebration. This immersive Halloween experience features pumpkin carvings, light displays, costumes, food trucks, festive cocktails, and much more! Look out for tickets for next year, see you in 2024!